Dovetail Basecamp Is An All-Inclusive Summer Camp Weekend! Your Ticket To Basecamp Includes 12 Months Of Membership To the Dovetail Community Of Female Entrepreneurs
Your mastermind group will be carefully curated with a small group of peers across industries. Dovetail mastermind groups are designed to build relationships within our community and create space for every participant to share, problem solve, and support one another. Throughout the weekend, the mastermind groups gather and follow guidelines to provide support and a "hot seat" opportunity for every participant.
all the fun camp activities
Our optional camp activity sessions are great opportunities for casual conversations or unforgettable adventures. Experience the great outdoors in a canoe on the lake, an adventure through the ropes course, a morning yoga class, a hike through the forest, or just relax and take a walk down to the dock, or test out a Muskoka chair with an incredible view.
Our workshops are designed to be highly interactive conversations about topics that impact our participant's businesses and lives. Workshops & roundtable topics included: leadership, organizational design, hiring, marketing, life & business integration/ balance, hacking your schedule, working with investors & board members, and more.
an authentic canadian summer camp experience
Get comfortable, let down your hair, take off your shoes and throw on some flip flops or sneakers. There's no need to dress up, Camp Tamakwa is reserved exclusively for our group. We'll be sleeping in shared cabins and experiencing life at one of Canada's most well known summer camps, owned by the founders of Roots Canada, and the setting of the movie "Indian Summer". It doesn't get much more Canadian than this!
Dovetail Fireside Talks are engaging and entertaining talks given by selected mentors, based on the needs of our participants. We invite a handful of Dovetail mentors to give Fireside Talks over the course of the weekend, on a wide range of business and life topics. Past Fireside Talk subjects included: Innovation, Stories and Strategies From Failures, Sex & Relationships For Entrepreneurs, Investment & Managing Your Finances, Negotiation Strategies, and more.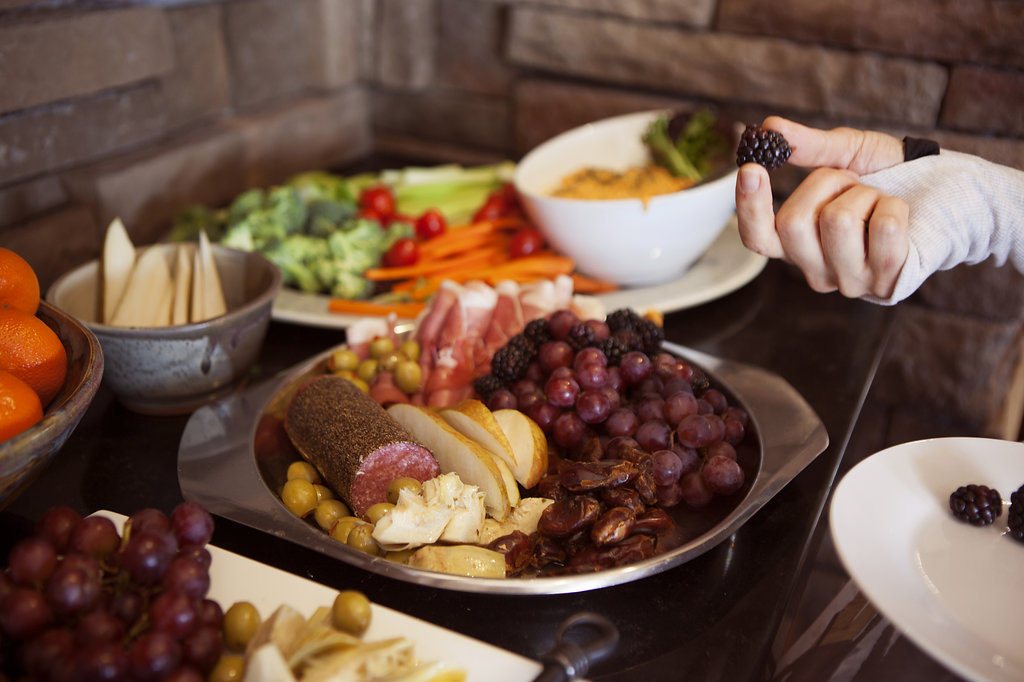 delicious and nutritious meals & snacks
Enjoy healthy, delicious meals, snacks, and drinks! Everything's included! We might be at camp, but we're not serving camp food! Our in-house chefs design special menus for our group, and can accommodate all your dietary needs, from vegan to gluten free to paleo and everything in between.
Curious about what a day at Dovetail Basecamp looks like?
Frequently Asked Questions
What's Included In My Ticket To Dovetail Basecamp?
Basecamp is just the beginning of your opportunities to connect with and learn from a community of supportive, generous, ambitious, and driven female entrepreneurs. Your ticket includes:
Your all-inclusive ticket to Dovetail Basecamp (accommodation, delicious catered food, beverages (alcoholic & non), hands-on workshops, your curated mastermind group, fireside talks, and camp activities)

An entire year of invitations to bi-monthly dinners and events, so you can stay connected to your Dovetail sisters all throughout the year (dinners in Toronto, and around the continent - plus dinners & get togethers at events and conferences that our community members are attending or speaking at in Austin, NYC, San Diego & San Fransisco)

A private no-pitch Facebook group, where you'll be able to connect with and learn from your peers and mentors

Access to our private members page & exclusive resources and offers from alumni & current community members

Bi-monthly community workshops on Zoom calls with our "Mentor Of The Month", to help you on your mission to grow and scale

Access to special offers and exclusive discounts to events and conferences (like Haste and Hustle in November, where three of our Dovetail Community Mentors are speaking, and we'll host a private Dovetail gathering during the event)
Who's attending? Am I a good fit for this event?
We believe that we can create the best experience for entrepreneurs with active businesses (beyond the idea or MVP stage), so for Dovetail Basecamp we're curating a guest list of entrepreneurs who identify as women, who are continuing to grow their business (or launching their second, third, or fourth businesses).
Too many women, at every stage of business and every experience level, suffer from imposter syndrome and the belief that they're "not ready" for an experience like Basecamp, or a community like Dovetail. If you're not sure, we invite you to complete the application. See our home page for some of the women who are already signed on to join us at Basecamp this year, you'll be in great company!
Dovetail Basecamp is for you if:
Your business is generating revenue or funding

You are working full-time in your business

You have at least one employee, or are on the verge of hiring team members

You have a great service or product, and you're working hard to grow your business

You're open to learning from expert mentors, and from your peers

You're open to sharing openly about your experience in your business, and in previous careers
Our community members include tech company founders, manufacturing business owners, cannabis entrepreneurs, marketing and PR company owners, a vintner (with amazing wines!), a superfood company founder, health and wellness pros, a sex therapist, a construction company owner, an inventor, and more. The diversity of our community members leads to incredible depth of conversation, and so many innovative ideas and business support for all. Our events are not about one single individual or guru on stage. Each and every one of our participants is chosen for their ability and willingness to give, share, and learn from every member of the community.
Dovetail Basecamp is not for you if:
your business is part of a multi-level-marketing scheme

you are in the ideation phase

you don't have a MVP (minimum viable product) or any market traction yet
What if I don't know anyone? Can I come alone?
Yes! 75% of the participants at our last event didn't know anyone, and now we're happy to call them Community Members. You'll also have a chance to "meet" everyone in the private Basecamp Slack group before the weekend. Dovetail events are highly interactive, and with a highly curated mastermind group and cabin group, you're guaranteed to build genuine relationships.
Are people going to sell from the stage or pitch things all weekend?
No. We don't have a stage and the Dovetail Community and events 100% pitch-free-zones. We take this rule extremely seriously. Leave your business cards at home, and relax into real conversations without worrying about anyone having ulterior motives. We encourage our community members to work with one another, by choice. It happens naturally when incredible entrepreneurs share their skills. Our community is based on respect, giving-first, and we grow through real, authentic connections. We promise not to pitch you, and neither will other community members. You're safe here.
How Do I Get To And From The Venue?
You have two options: you can hop on one of our coach buses from the airport if you're flying in, or from North Toronto, or self-drive the beautiful road through Algonquin Park up to Camp Tamakwa. You can also arrange carpools in the private Slack group before the weekend.

Can I bring my partner or kids?
The value of Dovetail events is in the learning and connecting with other community members, and it can be difficult to be fully present with your partner or kids in tow (unless your partner identifies as female and is also an entrepreneur). We have limited space available for fewer than 250 participants at this event, therefor we will not be able to accommodate partners or children, unless there are extenuating circumstances (send us a note if you're not sure!). We may open future events to families and children, so please do let us know if this is something that you'd be interested in.
Can you accommodate special needs?
We strive to be as inclusive as possible, so please apply and make note of the accommodation you may need, or email: hello@dovetail.community and we're happy to hop on a phone call to discuss. Please note, dietary requirements can all be accommodated, and approximately 80% of our past participants have had special dietary requirements.
What's the cancellation policy? Are tickets transferable?
We hope you won't have to cancel, but just in case you do our cancellation policy is as follows:
There are limited spots available at the Dovetail Basecamp, and our participants tend to require plenty of notice to book time in their busy schedules. Once you reserve your place you are not eligible for a refund, however if you need to cancel we will do our best to find someone to take your place. If we do we will provide you with a full refund. As this is an invite-only event with a curated guest list, tickets are not transferable by participants.


What's a Dovetail, and who's behind this event?
A "dovetail" is a carpentry joint commonly found in log cabins, where two or more pieces of wood are interlocked without the use of nails or glue. The verb "dovetail" is used to describe two or more ideas, plans, or people that fit together.
Alexis Dean launched Dovetail in January 2015 after spending ten years working as a facilitator, trainer, and educator in 21 countries with more than 100 corporate teams and school faculties. Alexis and her team at Dovetail Teambuilding and Training host private trainings and retreats for well known companies including Rogers, RBC, BMO, Altus Group, Roche, PointClickCare, and more.
In 2017 at the height of the #metoo movement, Alexis saw a need to create more opportunities for community building, masterminding, and collaboration among high performing female entrepreneurs. She combined her experience as a facilitator with her passion for planning and hosting entrepreneur events, and the Dovetail Summit was born. Dovetail Basecamp, and the Dovetail Community were created to include growth & scale stage female entrepreneurs, and create an ecosystem of support for more women to thrive in business.